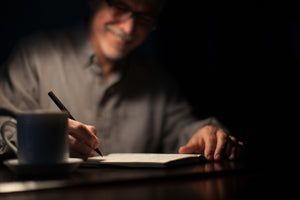 Beautiful journals for
your time in God's Word
Read | Record | Reflect | Remember
Why DEN Journals?
• Layflat binding                              • Premium Paper                           
• Lined, Dotted, or Blank Paper
• Table of Contents
• Archival Stickers 
Shop Now
Earnest study + practical application = A life of legacy
What journalers are saying about DEN
I have been using my Double Edged Notes for just over a month now and I love so much about it. The quality is astounding. From the feel of the front cover to the thickness of the paper it feels like a high quality notebook. My favorite design aspects are the lay flat binding and the tag lines at the top of each page.

Steve M.
I've owned many different journals over the years, and these are clearly made by someone who has experienced the usual small irritations from journals and also dreamed up all the "wouldn't it be nice if this had. . ." features. I have not found a negative aspect to this journal yet.

Bridget K.
Great quality (and they're continuing to improve little details. Great customer service from the company. The inclusion of a simple thing like page numbers and a space for a table of contents is very helpful. I particularly like using it with a few sheets of the Totally Effective Sticky Task in the back, but that's just me!

Mark M.
GIVE THE GOSPEL
Buy a journal. Give a Bible.
For every journal sold, we will distribute a Bible to a country closed to the gospel.
Write the Gospel. Give the Gospel.
Learn more
Ever feel like reading God's Word is just a checkbox item in your day?
We create beautiful journals to help make your quiet time rich and fruitful. 
At Double Edged Notes, we know that you want to be salt and light in this world. In order to do that, you need to dwell richly in God's Word. But, we know it can be hard to have an effective quiet time which over time just turns Bible reading into a checkbox item and it's not long before we stop altogether.

We believe that apart from an abiding relationship with Christ, including time well spent in His Word, we are unable to do anything that will make a lasting, eternal impact in this world. 
God is teaching you something everyday. Start writing it down in a DEN journal!  Try it for a month. Stop stagnating in your walk with Christ and instead grow into all Christ intends you to be.